Date/Time
Date(s) - 27/10/2020
Time - All Day
SIPUGday 2020 goes digital!
Since the start of the preparation of the event, we have designed it as a hybrid event to have an option to run the event safe and open for everyone.
Even though the physical event would be covered by the Zurich Marriott Hotel Covid-19 measurements and many additional steps were taken, we are fully aware that we can not rule out the risk of a physical event by 100%.  Having more than 16'000 new infections in 3 days is for a small country like Switzerland a very high number and most of us are already back in Homeoffice with strict restrictions for physical business meetings and events.
In the light of growing restrictions, but having prepared for this probability, the board of SIPUG decided to maintain the online event only. Therefore, and with the objective of guaranteeing the safety of all participants the physical event at the Marriott hotel will be fully cancelled. Our selection of speakers, panels, and interviews will be streamed online. We thank you for your understanding and look forward to your participation.  
It's for us a learning process, but we hope, that the  program will be well received. A mix of keynotes, break-out sessions, interviews and more. We believe the topics are relevant for all of us and will make you join and stay!  You will find the online stream here!
Take part in the AWP draw and win a weekend stay in a lovely hotel in the SWISS alps. The details will be available on the day of the event.
Check out our program below and register for the digital event!
If you have any questions please contact
Frank Verstraeten via events@sipug.ch
Visit our exhibitors:
Our StartUp session participants:
Our event program: (current status)
09:00
Welcome Words from the SIPUG President
SIPUG
Raphael Pont
09:05
AWP Price draw
AWP
Dario Bianchi
09:15
SIPUGday topic:
"Market Data - changing our ways"
a discussion with
Maria Borzova (UBS)
Simon Hall (BEKB)
Terry Ng (UBP)
Marc Berthoud (SIX Exchange)
Stephen Dorrian (CBOE)
10:15
BREAKOUT - SESSION:
"Datacare – a new approach to Data as a Service
Driving agility in a time of disruptive change"
SimCorp
Josef Sommeregger, MD
10:45
BREAKOUT - SESSION:
"Cyber-Security Update"
Metric Stream
Barbara Fuchs, Regional Sales Manager
11:00
"StartUp Hour"
StartUps in a pitch
12:00
"SIPUGday live - Interviews with Exhibitors"
presented by SIPUG
13:00
KEYNOTE:
"Climate change goes digital"

3rd-eyes Analytics
Rodrigo Amandi, PhD / COO
13:30
KEYNOTE:
"Big data is our daily business - amazing how it can improve your investmentstrategy!"
Banque Lombard Odier
Stéphane Monier, CIO
14:15
BREAKOUT - SESSION:
"Trusted Data, trusted Technology, trusted Expertise - the three pillars of making good decisions"
Lucht Probst Associates
Peter Panse, Director
14:30
BREAKOUT - SESSION:
"What is good data?"
EOSE
Suzanne Lock, CEO
14:45
BREAKOUT - SESSION:
"Market Data Reimagined in the Cloud - Monetize and Protect Your Original Content"
BCC Group
Daniel Muri, Head Switzerland
15:00
KEYNOTE:
"The Future of Finance is Now"
SIX
Marion Leslie
Head Financial Information
15:23
"SIPUGday live - Interviews with Exhibitors"
presented by SIPUG
15:30
KEYNOTE:
"Just do it - lessons learnt in ESG investing"
BAYERNINVEST
Wiebke Merbeth
Head of Responsibility
16:00
BREAKOUT - SESSION:
"Accessing China and the underlying infrastructure – solving for data gravity, regulatory and technology challenges."
Interxion
Jan-Pieter Nentwig
Alibaba Cloud Services , Josh Hu
Accenture, Guido Greber
16:30
SIPUGpanel:
"Evolution of Data"
with
Marion Leslie
Wiebke Merbeth
Rodrigo Amandi

17:15
AWP Price draw
AWP
Dario Bianchi
17:30
SIPUGday - a short resume from us / END OF EVENT
Click on the image to download the event flyer!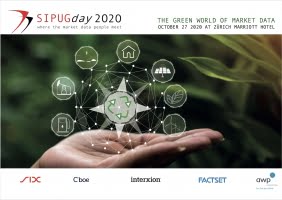 Map Unavailable
Date/Time
Date(s) - 27/10/2020
All Day
Bookings
Bookings are closed for this event.
Categories
https://sipug.ch/wp-content/uploads/2017/05/logo_big_black-300x102.png
0
0
Joe Doe
https://sipug.ch/wp-content/uploads/2017/05/logo_big_black-300x102.png
Joe Doe
2017-09-25 10:54:02
2020-10-27 07:14:03
11th edition – SIPUGday 2020